Garena Free Fire Graphics Settings And Controls
Garena Free Fire is one of the most popular battle royale games due to its compact size and efficient performance on lower-end and mid-range devices.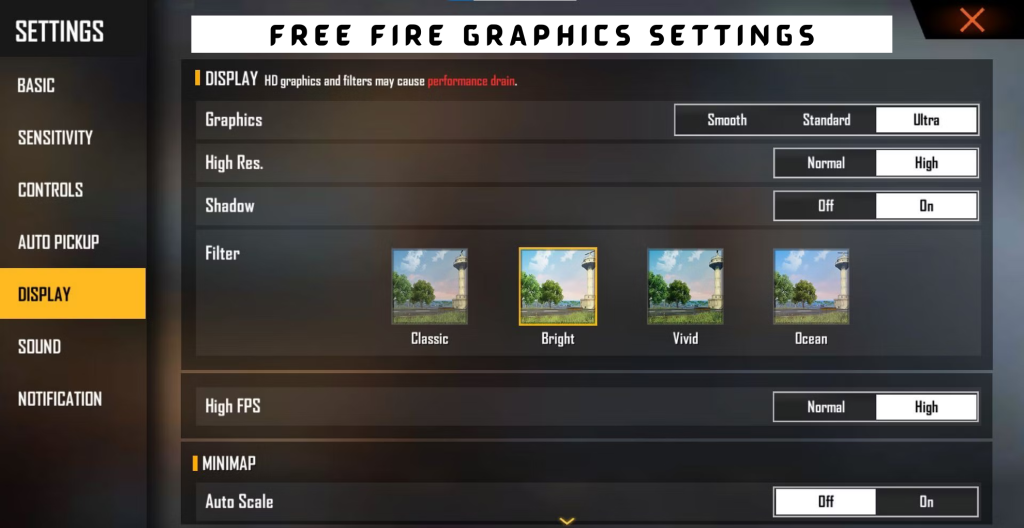 This beloved mobile game has maintained its popularity by remaining accessible on low-end Android devices. However, with ongoing updates, there has been a slight impact on performance, leading to issues such as lagging and frame drops. These issues are of concern to regular Free Fire gamers, but the good news is that they are resolvable.
For the best graphics of game you may try FF Advance server.
Players Can Set These Control Settings
General: 100
Red Dot: 100
2x Scope: 90 – 95
4x Scope: 85 – 90
Sniper Scope: 65 – 70
Free Look: 75 – 80
Adjusting graphics settings is just the beginning. To take your Free Fire gameplay to the next level, explore our guide on How to Top Up in Free Fire and unlock a world of in-game possibilities.
How to Resolve Lag Issues in Free Fire Gameplay?
External Adjustments: Players should check a few key things, as there can be issues causing lag in their gameplay.
Internet Connectivity and Ping: While playing Free Fire, ensure a stable internet connection with a low ping. High ping can lead to lagging issues.
Device's RAM: Before gaming, make sure your device's RAM is free. Use the task manager to exit background applications that could cause serious lag during the game.
Battery Saver and Low Power Mode: Turn off any device apps like battery savers or low power mode, as these can restrict game performance and internet connectivity.
Storage Space: If your device's storage is full, it's essential to clean up your ROM. Gaming requires some free space, so freeing up storage can prevent any obstructions in the ROM.
By following these steps, players can enjoy a lag-free Free Fire gaming experience. Starting a match after these adjustments can help ensure there are no issues like lag, frame drops, or other hindrances affecting the device's performance.
Want your game to look even better without spending a dime? We've got tips on How to Get Free Gun Skins in Free Fire that can enhance your arsenal.
Adjustment of Display Settings
If the issues persist after following the previous steps, players may need to adjust their display settings. To do this, follow these instructions:
Open the Display Menu: Tap on the settings located in the top right corner of Free Fire's home screen.
Start with Default Settings: Begin by setting the display settings to their default values before making any further adjustments.
Make the Following Adjustments:

Graphics: Set to "Smooth."
High FPS: Set to "Normal."
Auto Scale: Turn it "Off."
Lowering the settings can be effective in resolving lag issues. To fully optimize your Free Fire experience, it's essential to tweak your graphics settings. But before that, have you checked our guide on how to Access Garena Free Fire Advance Server to ensure you're ready for action?
Unlock sharpshooter precision in Free Fire! Learn the secrets to landing headshots with our detailed guide on sensitivity settings for headshots.
Refrain from Using Illegal Game Boosters
Using game boosters for your game can place you in a gray area. Many boosters are considered illegal as they attempt to modify the data of the Free Fire game. Therefore, players should avoid using these applications, as they can lead to a ban in Free Fire.